Electric Self-Propelled Scissor Lift Battery Power Scissor Lift
Product details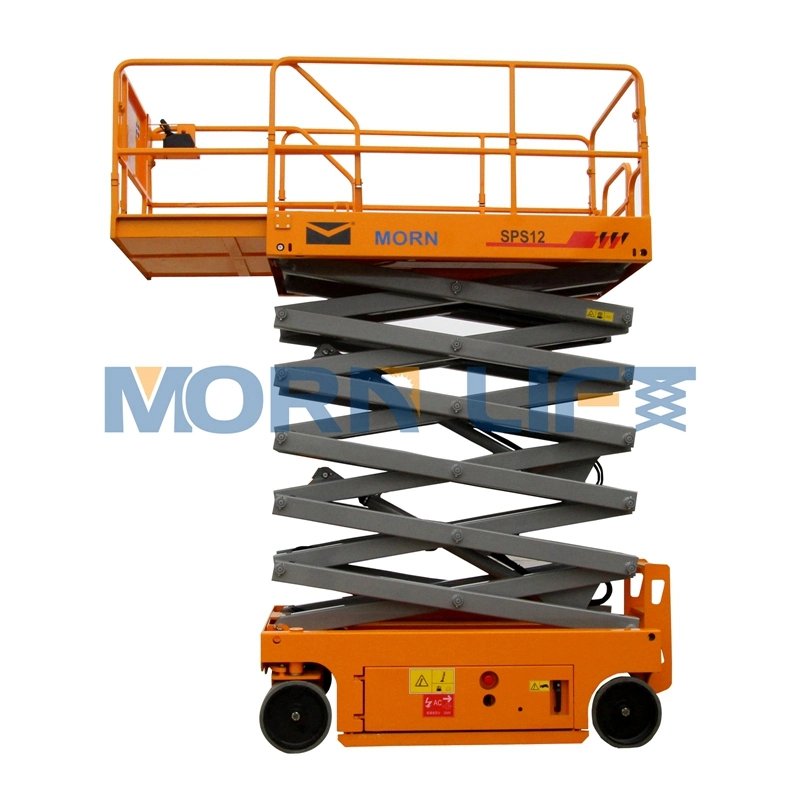 1. Introduction of self-propelled scissor lift
Morn self-propelled scissor lifts are used for lifting workers to the high level which
are made electric powered with Trojan battery provides the power to move and steer around.
Fully self-walk and up&down system makes it more convenient for one person to operate on the platform.
2. Model list for reference
Data/Model
SPS-5
SPS-6
SPS-8
SPS-10
SPS-12
SPS-14
Lifting height(m)
4.8
6.15
8
10
11.53
14.2
Max. working
height(m)
6.5
7.7
9.7
11.5
13.23
15.9
Load capacity(kg)
280
230
450
320
230
320
Platform size(mm)
1790*740
2260*800
2260*800
2260*1130
2260*1130
2930*1650
Extend platform
length(mm)
900
900
900
900
900
1100
Overall size(mm)
1.89*0.76*2.2
1.89*0.76*2.4
2.48*1.15*1.19
2.48*1.15*1.32
2.48*1.15*1.31
2.93*1.75*2.89
Grade ability
25%
25%
25%
25%
25%
20%
Lift motor
24V/3KW
24V/3KW
24V/3KW
24V/3KW
24V/3KW
48v/5kw
Drive speed
(stowed)
3.2km/h
3.2km/h
3.2km/h
3.2km/h
3.2km/h
3.2km/h
Drive speed
(raised)
0.8km/h
0.8km/h
0.8km/h
0.8km/h
0.8km/h
0.8km/h
Maintenance-free Battery
4*6/230V/ah
4*6/230V/ah
4*6/230V/ah
4*6/230V/ah
4*6/230V/ah
86*/215V/ah
Self Weight(kg)
1350
2180
2300
2450
2850
3350
3. Main features of Self-propelled scissor lift
Pothole protection device: Guarantee scissor lift to move smoothly when the ground is uneven.

Battery power is convenient, mobile at any time, no noise, no radiation, indoor and outdoor can be used

Scissor structure, reduce error and guarantee safety and stability.

Maintain support: prevent platform down during maintenance work.

Pit protection: the pit protection facilities will automatically put down during equipment ascent and protect the equipment from being tilted.

Flexible: The steering wheel can make a 90-degree turn in the situation, run in both high and lower speed, and be used even in small space.

Polyurethane wheel is lightweight and causes less damage to the floor, the strip design on tire make the moving more stable.

Extended platform: Bigger work range

Foldable guardrail: save the store dimension.

Traggable engine tray: Chassis can be swing out, which facilitate the maintenance, inspection and replacement.

Platform controller: easy control on the platform for lifting up/down, moving or steering with speed adjustable.

The footswitch on the platform for the extended guardrail.

Emergency decline: make the platform down under the emergency situation

Emergency stop button:

Stop the lift under the emergency situation

4. Applications:
It is widely used for aerial installation and maintenance of the working sites without power supply and
with smooth working grounds, such as hotels, grand hall, sports stadium, large factory, workshops,
warehouse, granary, bus/railway stations, hotels, airports, gas station and aerial pipeline
5. Warranty
1) User-friendly English manual for machine using and maintenance.
2) One year warranty for whole machine without man-made fault;
3) We will send you parts for free if there are any non-human factors problem during warranty time
4) 24-hours technical support by email, telephone or other communication online.
5) We could reply you in 2 hours after received your any questions even on weekend and holiday, engineers are available to your country if necessary.